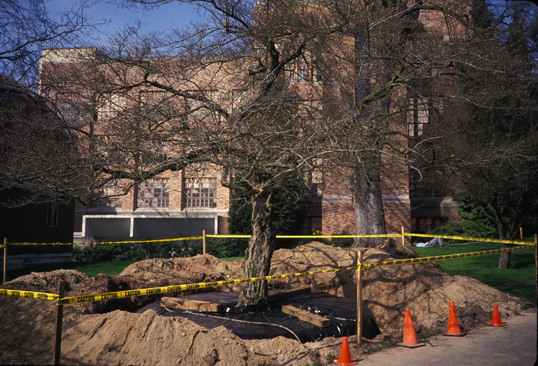 Seattle's Shining Hawthorn
Six officially certified National Champion trees live in Seattle. Maybe others that are the largest of their kind in the U.S. also exist in the city, such as an almost unbelievably huge Lombardy Poplar. In any case, only one must be dug up and moved! Here is its story.
In 1947 the University of Washington arboretum obtained seeds from Schumacher's Nursery in Massachusetts. The seeds were of the Shining or Glossy Hawthorn (Cratægus nitida). This hawthorn is either a species in its own right, or a hybrid between two other hawthorns: Cockspur (C. crus-galli) and Green (C. viridis). Its natural range is Missouri, Arkansas and adjacent states. Since 1883 it has been cultivated for its uncommon beauty and merit. Hawthorns in general are thorny little trees without outstanding landscape value. But everyone who knows the small, crooked trees agrees that Shining Hawthorn is among the best of the clan.
Why is the tree so striking? The names Shining or Glossy aptly refer to the elegantly long, lustrous leaves. A polished green summer sheen gives way to spectacular orange in fall, with a copious display of red berries. After the leaves drop in late October or early November, the fruit persists more or less, sometimes through February. Each berry is about half an inch long, and is a slightly dull, though beautiful rich orange-red. Inside are five hard little seeds and sweet but sparse pulp.
During late May the tree becomes covered completely with tiny but very numerous white flowers, making a sight not so flamboyant as exhibited by European hawthorns (absolutely smothered in blossom), but better than what most American members of the genus can produce. On average, European hawthorns are better in bloom, and American hawthorns superior in fall color. Shining Hawthorn is unsurpassed in both respects.
At all seasons the Shining Hawthorn presents a rounded to broadly flattened crown of thorn-free or sparingly thorny branches, borne upon an attractively fluted trunk of great muscle-like convolutions.
Since this species is so handsome, we can easily understood why it was desired by the arboretum staff. Seattle has only one native species of hawthorn (Cratægus Douglasii), whereas a state such as Georgia may have two dozen or more. However, enough Seattleites enjoy trees that the city has no less than 30 kinds of Cratægus planted here --excluding others present only in the arboretum. In fact, the tallest hawthorn of any kind ever recorded grows in Seattle: a European species called variously the Singleseed, Oneseed or Common Hawthorn (Cratægus monogyna): 64 feet tall (67 feet by 1995)!
The Shining Hawthorn of the Seattle arboretum was planted in 1951, then moved from the arboretum in February 1962. The construction of a floating-bridge freeway across Lake Washington meant the tree had to be either bulldozed or transplanted. Fortunately it was moved, to the University of Washington campus, just over half a mile from its original home. There it has stood, growing and growing. Its measurements are 22 feet tall, 36.5 feet wide, with its trunk four and a half feet in circumference. Now, it is titled "largest recorded member of its kind." Nonetheless, even if larger examples exist elsewhere, it is a cherished specimen. It is still the only Shining Hawthorn known in the Pacific Northwest. It is a beautiful, healthy tree. For the record, the previously "crowned champion" Shining Hawthorn was in the New York Botanic Garden in Brooklyn, and was 15 feet tall and 30 feet wide in 1972, with its trunk just over two- and a half feet around.
But again, Seattle's champ must soon be either bulldozed into a heap of crushed and maimed branches, or moved to a third home! This time the price of progress is: $7,500 to move the tree to make way for a multimillion-dollar new chemistry building. Other trees in the area are not so lucky. Falling victim to the building are arborvitæ, European ash, paper birch, Eurasian buckthorn, Deodar cedar, European chestnut, half a dozen crabapples, dogwood of three species, English elm, scarlet hawthorn, sassafras, black pine and witch-hazel. The mere list of names is a weak way to express the value of this tree collection. The elm towers 100 feet into the sky and is 87 feet wide. Several of the smaller trees are rare in Seattle. Many specimens are decades old. Preserving special trees and at the same time allowing new development is difficult, sometimes agonizing.
The Shining Hawthorn is worth moving. We cannot locate replacements in nurseries. It is still relatively young and healthy, and with proper caution can survive the ordeal. Its roots must be carefully pruned first, far in advance of the actual 1992-93 transplant. Then a new site selected, hole dug, and a boom truck rented. After the move the tree must be monitored to ensure its severed roots don't dry out.
In case of failure, we have sent numerous berries to nurseries so that youngsters may be forthcoming from the seeds. The seeds of hawthorns often require two years of after-ripening before they sprout, so patience is needed. Grafting has also been resorted to. We will do everything reasonable to preserve and propagate the tree (it survived . . . and grew west of Parrington Hall. It was pruned heavily so was smaller when it was destroyed by the UW in 2009 --to make way for a building. A grafted specimen grows at Washington Park Arboretum).
(originally published in 1991 in Urban Forests, a 24-page bimonthly of the American Forestry Association, Washington, DC)
Back