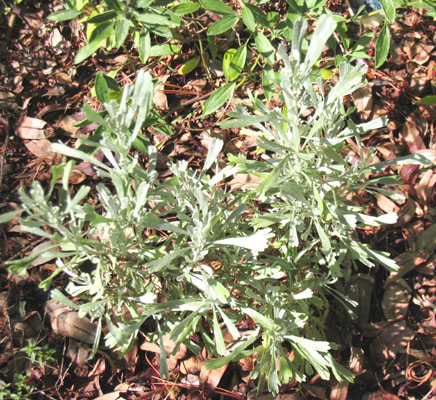 Sagebrush; Artemisia tridentata Nutt.
Sunflower Family; COMPOSITÆ
Over a million square miles of arid western North America supports the fragrant silvery scrub of sagebrush. It is abundant, distinctive and well known. Shockingly, almost no Puget Sound gardeners grow it, despite its beauty, hardiness, pleasing perfume and role as a splendid stirrer of memories.
Several similar western shrubs are also called sagebrush. They are various kinds of Artemisia, as are some Old World species that we cultivate: Tarragon, Wormwood, Southernwood, and Mugwort. Many other species are also in the genus. They are unrelated to Salvia sages such as the common culinary herb, the screaming scarlet salvia, the silvery soft Clary Sage, etc.>
The featured species is the most common and largest. Although it is normally a 3 to 6-foot tall bush, it can become a 20-foot tall tree in optimal growing conditions. The bark is dark, fibrous, and sets off the silvery-gray colored foliage. Deep green is a rare color in desert areas, so sagebrush is by no means unusually colored compared to its associates, most of whom are also grayish.
Peculiar wedge-shaped, notched leaves averaging an inch long are held year-round, ever lending their pungent odor to the air. Tiny yellow-green flowers wave in slender, airy plumes in September and October. Though plain appearing, because the shrub is "hopelessly common," it is the state flower of Nevada.
Indians used sagebrush bark for weaving, its seeds were sometimes eaten, and the plant was used both medicinally and as a disinfectant and cleanser. Its wood was often the only available fuel and the bark served as an excellent tinder. Modern herbalists still recommend sagebrush as a useful healing agent in certain cases.
To grow sagebrush successfully west of the Cascades, give it well-drained soil with much sun-exposure. No site is too hot, dry, or sterile. Like Dusty Miller, it will be valued for its striking color contrast compared to our usual green vegetation. Its exhilarating fragrance leaps out at the slightest touch. Growing ever so slowly, it will not become too big and thereby cause problems. My specimen has been in the ground for three years and yet is only 18 inches tall. Simply cut off the spent flower stems annually. When visitors inquire, "What is this?" you can smile and reply, "This is an example of what is probably the most abundant shrub of western North America. Take a whiff!"
(Originally published in the September 1989 Seattle Tilth newsletter, along with an illustration drawn by Annie Figliola.)
Back