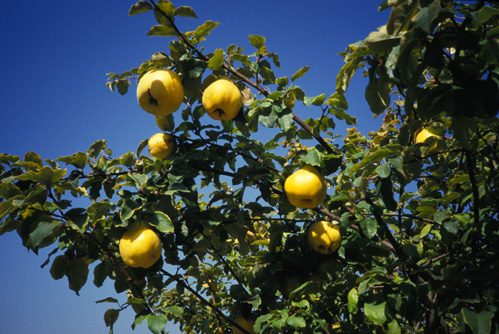 Quince Trees
Quinces are yellow apple-like fruits of hard texture and rich aroma. They are borne on both bushes and trees.
The shrubby flowering quinces, sometimes called "Japonica" (Chænomeles species & hybrids) are most familiar. Exuberant masses of vibrantly colorful red, pink or white flowers adorn the thorny, twisty plants in late winter or earliest spring. Highly glossed red-tinted leaves next flush, speedily covering the fading blossoms and spiny branches; then, late in autumn or winter when the leaves are finally vanquished by frost, the hard yellow fruit cling tightly to the twigs. Dozens of floral varieties of these, showy, hardy and easily grown shrubs grace our gardens. The fruit is golf-ball to billiard-ball sized and can be made into preserves or used as a fragrant decoration.
As for quince trees, two kinds exist. Neither has the spectacular flowers of the Chænomeles clan, but both supply sufficient quiet drama to raise eyebrows and excite curiosity.
The rare one is Pseudocydonia sinensis: a Chinese native whose attractively mottled flaky bark encourages caressing. This species is not grown for its big palest pink flowers, which are nice but nothing special; nor for its fruit, which is of little beauty and less gastronomic value, being noteworthy chiefly for huge size: to 7 inches long, 4 inches wide and weighing as much as 2 pounds! Light-green for months, it gradually turns pure yellow, waxy skinned, tough fleshed, though fair in its fragrance. The tree is grown instead --when it is grown at all-- for its handsome form, crisp foliage (semi-evergreen, with warm glowing orange-red tones in November) and superb bark. To be at its peak form it does require pruning, which can be a prickly job. Alas, the tree, like the shrubby quinces, is easily "scorched" badly by two disgusting bacterial diseases: fireblight (Erwinia amylovora) and Pseudomonas syringæ. The largest Chinese quince tree I know is at Sacramento on the Capitol grounds: 36 feet tall (still, in 2005) and wide (only 29 feet wide in 2005), its trunk 4 feet (4 feet 4 inches in 2005) around (very near N Street just west of 13th Street). In Seattle the largest is at the University of Washington Medicinal Herb Garden. It stands in shade north of "section F" and is 34 feet tall, 28 feet wide, its trunk 2'3" feet around.
The original quince tree is Cydonia oblonga, also called the fruiting quince, common quince or golden-apple. Native to the Near East and Central Asia, eons ago it was known to Mediterraneans, being etched in the pages of history long before the inquisitive lamp of Western learning shed its rays of light onto the East Asian Pseudocydonia and Chænomeles species. To ancient Greeks the quince symbolized "temptation," perhaps being likened to the serpent's apple in Eden or to the apple of Aphrodite.
Cydonia oblonga is grown for two reasons: its fruit is a tart treat worth enjoying, and its root is a good dwarfing stock for pear trees. Like the medlar (Mespilus germanica, which has been getting good press in late years), the quince tree is related closely to the apple and pear. Yet it differs from these well known trees by being smaller, often even bushy, more broadly spreading, conspicuously crooked, and bearing relatively large, fuzzy leaves, and sparse, large flowers. The foliage aspect is soft, relaxed, almost sleepy. No gloss, no striking color, no sharp lines or arresting features: just a blanketed or muffled mien. Nonetheless, the winter form of the branches and trunk, especially on large specimens, is strong: no puny runt, the tree when naked looks mighty like a little oak. Breathtaking it can be.
The fruit varies greatly from one variety to another, but is larger than those of the commonly cultivated Chænomeles, smaller than the weighty issue of Pseudocydonia, and better than either for eating, with the best selections even good raw off the tree. They're more or less downy, yellow to orange, and lumpy, not perfectly round. Some are pear-shaped. Eight American varieties are: Champion, Cooke's Jumbo, Meech, Orange (= Apple), Pineapple, Rea, Smyrna, and Van Deman. Ripening time is late August well into November. Some varieties have bright leaf color in the fall. None are thorny.
Does anyone know of a bigger quince tree than one recently measured in Seattle? We believe it among the oldest and largest on the West Coast. The amazing tree, at David Weatherford Antiques (14th Avenue E & E John Street) stands 23 feet tall, 29 feet wide, with its trunk circumference fully 5.5 feet (removed in 1999)! Certainly there are taller, leggy specimens, but one with such a trunk? --Never! Or is there? After all, how does a person know what is the largest tree of any kind? Such information is both fascinating and practical, but hard to come by.
Now, fortunately, "brighter skies are forecast," thanks to the drive and vision of an energetic volunteer. Trees both native and otherwise all up and down the western coast of North America are being measured and documented in splendidly complete fashion. Credit for this worthy, long-overdue effort goes to Robert Van Pelt. Van Pelt earned a B.S. degree in physics and biology at Wisconsin, then, not content, enrolled at the University of Washington College of Forest Resources for post-graduate studies. In his spare time he put together the most complete State big tree listing, under the sponsorship of the University of Washington.
Never one to shy from greater challenges and more work, he began measuring trees in B.C., Oregon and California as well. Towering firs, spruces and redwoods more than 300 feet in height are measured along with lowly quince trees: for all, Van Pelt sets his sites, draws taut his lines and calculates figures! We should look forward to his results, and assist him meanwhile. So mail your tips to him in care of the Washington Big Tree Program, Box 352100, Anderson Hall, University of Washington, Seattle, WA 98195. Let him know about huge quince trees or other worthy arboreal standouts.
(originally written in 1990)
Back