Pioneering Seattle's Historical Trees
Since this is our state centennial year, it is easy to find articles about events that occurred in 1889 or hear about various historical activities. Easy, that is, unless you are interested in the specific date a tree was planted to commemorate a special event.
We set out to find historic tree plantings in and around Seattle, dating from 1889, and soon learned that at that time trees were being logged left and right. However, in the early 1900s, a group of volunteer women planted 3,000 trees downtown to replace those lost in the fire of 1889. Could this have been the first example of a volunteer street tree program?
Historic Trees
Historic tree records focus on: (1) specimen or noteworthy trees that are unique; (2) the largest examples of a tree species (3) trees of striking appearance; and (4) trees standing as living landmarks or memorials. We list some example below.
A Noteworthy Tree: The Washington Elm
The Washington Park Arboretum can boast one of the only authentic specimens started from the famous Washington Elm of Cambridge, Massachusetts. Under the Washington Elm, General George Washington took command of the Revolutionary Army on July 3, 1775.
Additional trees were started from the Arboretum's elm. According to the December 1936 Arboretum Bulletin, one was sent to Cambridge to be planted near the site of the original tree. Another one was planted on the capitol grounds in Washington, D.C., and a third was planted on the capitol grounds in Olympia, Washington. There also is a specimen (PHOTO ABOVE) between the Communications Building and Clark Hall on the University of Washington campus.
The Arboretum's Washington Elm stands 100 yards south of the Graham Visitors Center, west of Arboretum Drive, north of the Woodland Garden. It is close to the road and is designated by a sign.
Also of note are two hollies planted near the University of Washington's Art Building which came from Mt. Vernon, George Washington's plantation.
The State's Largest Specimen: An Enormous White Poplar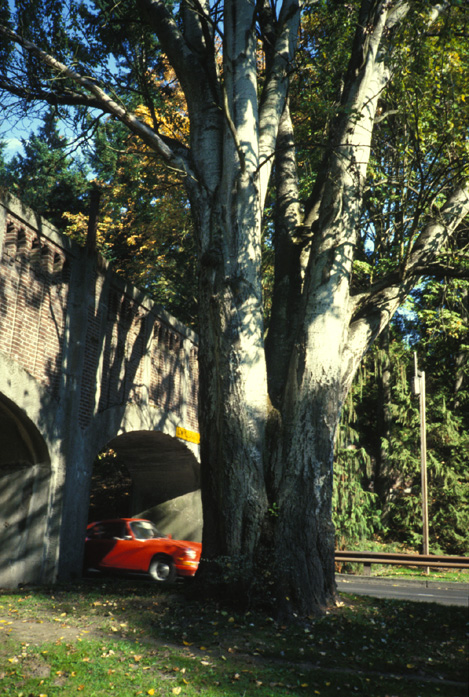 The largest Bolleana white poplar (Populus alba 'Pyramidalis') in the state is in the Arboretum on the south side of the Lynn Street Bridge. It towers 102 feet in height, is 75 feet wide, and its trunk measures over 18.5 feet around. It is unknown whether it was planted as part of the original Olmsted 1905 boulevard design or early in the 1920s by the Seattle Parks Department (it was cut down in April 2001).
An Excellent Specimen: Liriodendron Tulipifera
The tulip poplars (Liriodendron Tulipifera) along the twenty-one hundred block of NE Park Road (north of Ravenna Boulevard) were planted as part of a University of Washington architecture class project in the 1930s. Of the remaining trees, one in particular is the most handsome, large-sized tulip tree in Seattle (its photo appears in Trees of Seattle).
Trees of Striking Appearance: Trees That Line Olmsted Boulevards
Certainly, the earliest and best example of trees being used to line boulevards is along Lake Washington Boulevard. In this and other roadside plantings in Seattle, the Olmsted Brothers (landscape architects) laid out a rich variety of large-growing shade trees, including:
Green ash (Fraxinus pennsylvanica), European beech (Fagus sylvatica), yellow birch (Betula alleghaniensis), European hornbeam (Carpinus Betulus), horse chestnut (Æsculus Hippocastanum), bigleaf linden (Tilia platyphyllos), littleleaf linden (Tilia cordata), Norway maple (Acer platanoides), sycamore maple (Acer Pseudoplatanus), English oak (Quercus robur), pin oak (Quercus palustris), red oak (Quercus rubra), Turkish oak (Quercus Cerris), hybrid plane or sycamore (Platanus x acerifolia), Oriental plane (Platanus orientalis), and poplar (Populus nigra cultivars and hybrids).
Some of these trees, though less than 100 years old, now tower more than 100 feet in height, making noble, leafy colonnades.
A representative boulevard planting of hybrid planes and English oaks line the south entrance of the Arboretum to remind us how trees are used to soften the harsh effects of urban design.
Living Landmark: An Oak in Chehalis
Around 1860, another Washington State tree was made historic by the actions of a soldier in the Grand Mound area near Chehalis. As the story goes, this expert army marksman laid his old flint-lock rifle in the crotch of a living oak tree to signify the Chehalis Indians that hostility between the Indians and settlers had ceased. Today the tree still stands with the 1839 vintage rifle encased in the trunk.
Living Landmarks: Lombardy Poplars from the 1909 Exposition
The Lombardy poplars (Populus nigra 'Italica') in front of Architecture Hall at the University of Washington are another example of a living landmark. They were planted as part of the Alaska-Yukon-Pacific Exposition held in 1909.
Living Landmarks: A World War I Memorial
The 1200 American elms planted in 1919 along Des Moines Way (south of Seattle) to commemorate Americans killed in World War I provide a good example of a living memorial.
More on Seattle's Favorite Turn-of-the-Century Trees
Trees that were popular in Seattle around the turn of the century are reviewed in a master's thesis, written in 1909 by a University of Washington student, Clarence R. Pope. From that thesis, entitled Shade Trees of Seattle, we have been able to generalize that the most common tree throughout Seattle was the maple. Several different species, including the bigleaf maple (Acer macrophyllum), Norway maple (Acer platanoides), and sugar maple (Acer saccharum) were used. The bigleaf maple comprised over 90% of all the maples planted in the city.
Mountain ash (Sorbus aucuparia) was the next most prominent tree planted after maples. Other trees found lining Seattle's streets at that time included the American elm (Ulmus americana), English elm (Ulmus procera), northern catalpa (Catalpa speciosa), our native dogwood (Cornus Nuttallii), horse chestnut (Æsculus Hippocastanum), American linden (Tilia americana), black locust (Robinia Pseudoacacia), honey locust (Gleditsia triacanthos), ginkgo (Ginkgo biloba), American sycamore (Platanus occidentalis), tulip tree (Liriodendron Tulipifera), green ash (Fraxinus pennsylvanica), birches, poplars, and cottonwoods.
The American and English elms and green ashes planted on 34th, 36th, and 37th Avenues East between East Madison and East Mercer Streets were planted by realtor John L. Scott to lure prospective home buyers to buy his lots and build residential homes. This is one of the earliest examples we know of in Seattle where street trees were used to landscape a subdivision.
We have a good idea about the popular species that Seattle had around the time of statehood, but Seattle lacks documentation on its specific significant tree plantings.
Keeping Records of Your Historic Trees
Individuals can identify trees of historical interest. For example, Arthur Lee Jacobson received a letter from Mrs. Louise Benton Oliver in early February of 1989 regarding an American elm important to her family's history:
In 1909, my grandmother from Vermont sent to my father some little elm seedlings (probably 12 of them) in a shoe box. He planted them in his garden where they grew for several years. As they grew larger, he gave some of them to various relatives and friends. Half of them he gave to his brother who planted two or three on 22nd Avenue NE, and two or three in the garden at the University Unitarian Church. They are all growing well and are large trees.
According to Mrs. Oliver, there also are trees that grew from her grandmother's seedlings in the parking strip at 5558, 5559, 5700, 5727, and 6002 29th Avenue NE; the largest of these is the one at 5727 29th Avenue NE and Mrs. Oliver writes:
Five or six years ago it split and about one third was destroyed, but tree surgeons did excellent repair work. The tree is now doing well and beginning to look quite symmetrical.
The tree at 5700 29th Avenue NE is now having children (seedlings of its own about a year old).
I have lived at 5700 29th Avenue NE and 5727 29th Avenue NE since 1908 (81 years) so this is the reason these trees mean so much to me and how I happen to know where they are.
(Mrs. Oliver's elm at 5727 29th Avenue NE was removed in February 1993. Gil Schieber and Arthur Lee Jacobson planted one of its seedlings on the front lawn of Seattle's Good Shepherd Center. Louise Benton Oliver was born on July 1 1897 and died July 15 2001) Looking back, it is sad how little historic documentation we have of our earlier tree plantings. There probably are rich and varied anecdotes about each tree, so a lesson is learned that good records must be kept. Record as much information as you can about where that seed or seedling came from, why it was planted, how it has performed, what type and frequency of maintenance has occurred. And maybe --just maybe-- future generations will be able to look back and better appreciate all the significant tree plantings that are happening today.
(Co-written with Jerry Clark, and originally published with a photograph in the Spring 1989 Washington Park Arboretum Bulletin, pages 7-9.)
Back