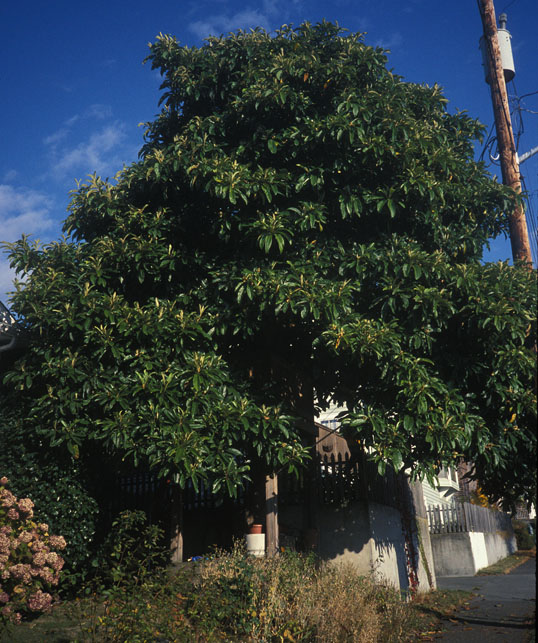 Loquat; Eriobotrya japonica (Thunb.) Lindl.
Rose Family; ROSACEÆ
The Loquat is a broadleaf evergreen shrub or small tree, dense in growth, bearing large, strong-textured leaves, creamy-white flowers, and yellow to orange edible fruit. It is called "Pe Pah" in its Chinese homeland, and "Biwa" in Japan. Cultivated in the Mediterranean region, it was likened to the medlar native there, and so was called "Neflier du Japon" (French), "Nispero del Japon" (Spanish), and "Nespolo giapponese" (Italian). This is not because it looks anything like the medlar (Mespilus germanica), but because a botanist once called it Mespilus japonica, and the name stuck.
In this country, most Loquats are grown in California, but our mild Puget Sound climate should encourage us to plant more of them here. There are several dozen in Seattle.
Though it produces edible fruit, the Loquat pays its own way simply as an ornamental, because it is so handsome and adaptable. It can be kept as a shrub at 10 feet tall or allowed to become a tree, eventually reaching 40 feet in height.
In the landscape its effect is dark and bold, not to mention unusual. Plant one if its year-round greenery and extra-large leaves please you more than a typical ornamental shrub with smaller deciduous leaves. Loquat leaves measure as large as 16.5 inches long by 5.5 inches wide, and are pale, soft and fuzzy when unfolding, but grow dark, hard and thickly corrugated with age; the top side becomes shiny and smooth, the underside stays fuzzy.
Fragrant creamy-white flowers, half an inch wide, are borne in dense, upright clusters 4 to 8 inches long, usually between October and January. They give rise to yellow or orange, more or less round and lightly fuzzy fruit, 1-3 inches long with one to several seeds. The fruit is not aromatic, nor especially flavorful. Birds sometimes go for it. It ripens in Seattle beginning in June and July, and fortunately tends to hang well, so need not be harvested hurriedly. In fact, the longer one waits the sweeter it grows.
Most soils are suitable for Loquats, and either shade or sunshine permit good growth. A sunny site with rich soil may be best. Though drought-tolerant, it does better if given some summer watering. Pest and disease problems are minor. Pruning to thin the crown is advisable.
Severe winter cold is the limiting factor. Loquats enjoy warm-temperate and subtropical climates. Freezing is a terrible shock to them. It zaps their flowers or young fruit, can turn the leaves brown, or even kill the shoot tips. This winter, for example, was so vicious and unusual, that many specimens look pitifully hideous. Certainly no fruit is to be expected this year.
But go ahead and plant one! After all, it is hardy in general, and some have been here for decades to prove as much. There is an old tree almost 25 feet tall with a trunk a foot thick (see the photograph above) at 612 NW 56th Street (below Phinney Ridge).
As far as I know, all Loquats available for sale locally are seedlings, whose vigor, appearance and fruit quality vary accordingly. Grafted varieties, if found, will command a premium price. A lone Loquat specimen will set fruit, but cross pollination from more than one will increase yields. The fruit is good raw or preserved, and Loquat pies are easy to make.
(Originally published in the April 1989 Seattle Tilth newsletter, along with an illustration by Annie Figliola. The specimen cited at 612 NW 56th Street is now much larger, with a tree-house in it. Some Seattle-area nurseries also will now and then sell grafted clones.)
Back