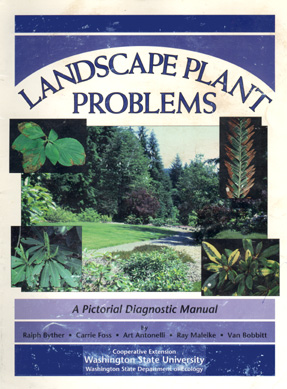 Landscape Plant Problems
a book review by Arthur Lee Jacobson
Landscape Plant Problems: A Pictorial Diagnostic Manual. By Ralph Byther et al. (5 authors). Published in 1996 by Washington State University Cooperative Extension and Washington State Department of Ecology. Softcover, spiral bound, 164 pages.
This superb book is specifically for gardeners west of the Cascades. It uses 500 color photographs to ensure precise identification. The emphasis is landscape plants, not lawns, vegetable crops, or houseplants. The book is arranged alphabetically from Ageratum to Yew, into 78 plant groups. For each plant, photos show diseases, insects, mites, cultural or environmental damage. Of the 78 plant groups, apple trees have the most problems cited, with 27. Rose has 22, Douglas Fir has 21, Rhododendron and cherry both have 20.
The back of the book has 4 miscellaneous sections. Cultural problems common to many plants is 10 pages including such things as overwatering and construction damage. Common disease problems (6 pp.) includes such maladies as root rots and rusts. Common insect problems (8 pp.) deals with aphids, slugs, etc. Herbicide damage (7 pp.) shows herbicide abuse. The book then concludes with suggested reading and an index.
I wholeheartedly recommend this book as a valuable resource for people who desire to learn the causes of strange behavior or appearances in their plants. Moreover, the $25 cost is a relative bargain. One caution: it says not a word about remedies, being a diagnostic tool. If you want to know what to do, you need to consult other sources --some of which are recommended in this book. The book is sold from WSU Puyallup Plant Diagnostic Lab., 7612 Pioneer Way E, Puyallup, WA 98371-4998.
(Originally published in the Seattle Tilth newsletter)
This book was revised in September 2000 and January 2006. The revised version has more pages and photographs. To order one for $35 go to: the WSU website
Back