Some Special Trees of Green Lake
Green Lake is Seattle's most heavily visited park. In its fame as a local natural attraction it may not be as dominant as New York City's Central Park, but only because in comparison Seattle offers such an enviable abundance of parkland and greenery. Green Lake's trees are a most impressive collection, and I recently wrote a book about them because so many people love the place.
An acquaintance of mine who has utterly no knowledge of trees besides what we all possess in common, was moved to expressions of delight when the silent songs and mute histories of Green Lake trees were revealed by my booming voice, as, like an uncorked bottle, I let forth on the subject so dear to me. Since people respond to love, here is some for you --three Green Lake trees that stir my heart.
1. AMERICAN WHITE ELM
Of the 162 different kinds of trees at the park, totalling 2,473 individual specimens, my special favorite is an American white elm (Ulmus americana). This fine tree stands with three of its peers and a European cousin (U. minor) atop "Elm Hill" (between the Bathhouse Theatre and the nearby parking lot, at the lake's northwest corner). These elms, along with dozens of flowering crab apple trees donated by the Seattle Garden Club, were planted in 1932 as a living memorial to commemorate the bicentennial of George Washington's birth. Sixty years later, the crabapples still rekindle their cheerfully bright blossoms every April and May, and the elms are mature shade trees of noble size.
This region has been spared the elm disease that devastated most of earth's temperate zone (Dutch Elm Disease has since arrived), so our elms comprise a refuge population. Fate has seen to it that Seattle, anomalous in having no native elms, has become a city well stocked with numerous kinds brought from elsewhere. They grow to perfection in this mild climate, being not picky as to soil.
No elm grows larger or is more beautiful than the American white elm. This species has all the inspiring, strong yet graceful presence of a grand cathedral. If you prefer a secular symbol, the Brooklyn Bridge will do. Nothing about the tree is crudely proportioned or objectionable. To behold its swooping branches and fine tracery of branchlets, symmetrically radiating upward, outward, and finally downward from the tall pillar-like trunk, can make us sigh with pleasure. Everything about the tree people love: strength, great size, pleasing shape, and elegance; a monumental beauty.
Pragmatists among us will cough, and beg leave to point out that elms are notorious "gross feeders" with rapacious root systems, are prone to breaking up in catastrophic chunks, and that the wafer-like seeds of spring can be an ankle-high nuisance. Nonetheless, when we judge by looks alone, American white elm, at least while still intact in its shapely grandeur, is an example of nature's best. François André Michaux (1770 - 1855), a keen, widely traveled naturalist, ended a lengthy account of this tree "Such are the few and unimportant uses of the white elm in the United States; it is far inferior to the European elm which is a tree of very extensive utility, and it deserves attention in the Old World only as the most magnificent vegetable of the temperate zone."
You may go to Green Lake's Elm Hill and see for yourself. If the four trees do not, in your eyes, live up to the praise, it is because humans see differently. There was a time when I had not the slightest fondness for trees; now they earn my daily bread. And what some people consider artwork of world class quality sometimes makes me yawn or avert my eyes. So look and look again, because trees give to the degree that we're receptive.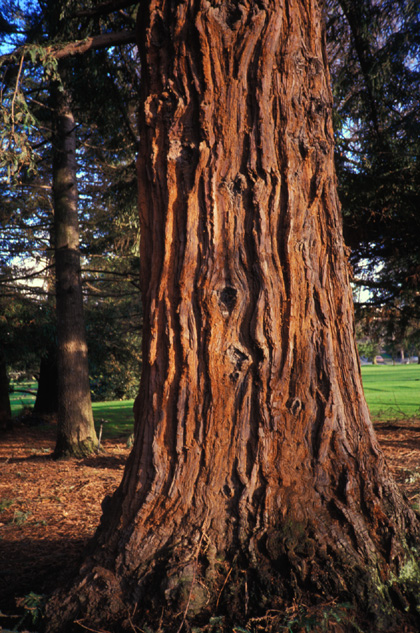 2. COAST REDWOOD
Like elms, earth's three redwood species all thrive at Green Lake. Trees of Green Lake gives them good press, as befits the world's largest trees. My favorite species is coast redwood (Sequoia sempervirens), represented by a grove of six in the Pitch and Putt golf course at the park's extreme southern end. These six were planted in 1947, and the largest now has a commanding trunk, deeply furrowed and richly cinnamon red, four and a half feet thick (PHOTO ABOVE).
Coast redwoods grow from southwest Oregon to San Francisco's Bay Area. The tallest are almost 375 feet, which is nearly 50 feet higher than any tree known in Washington. It is their neck-craning height, attractive red bark, and romantic history that makes us cherish redwoods. I have been as intimate with these trees as with any, having climbed to 130 feet in one, swaying gently in the wind with its supple shaft, while startled birds gulped, as it were, when seeing a human in their realm. On another occasion in a Seattle redwood grove I witnessed what was almost miraculous. The spring had been strangely dry and rainless, but while taking a walk before sunset, I kneeled to see on the dusty ground many redwood seeds sprouting. That night rain came.
Science, doubtless, has the answer. But be that as it may, I was deeply impressed. When you've hugged trees, pruned them, grown them, measured them, photographed and drawn them, and fashioned articles from their wood, then their mysteries, however logically explained, must contend with your own strong feelings of awe and appreciation --and as often as not, the empirical side loses to the emotional outlook. It gives me solid satisfaction to know that Seattle someday will have 300 foot redwood groves, and our children won't need to travel 500 miles southward for that wonderful arboreal experience.
3. WHITE WILLOW
Lake shores, riversides, and even giant mud-puddles generally are well supplied with alder and willow trees. Green Lake is no exception, having over 80 alders and a hundred willows. Much to my gleeful surprise, I found a unique individual: the first purebred, nonhybrid, nonvarietal white willow (Salix alba) I'd found. Although in Europe the tree is common, North Americans cultivate this species almost exclusively in its various hybrids and garden varieties. No wonder --they are all better looking than the original version. But still, just as we cannot fairly judge a good glass of wine until we've tasted bad, so with trees, we might not fully value selected varieties until we see from whence they originated.
Green Lake's lone white willow is in a thicket at the south end of the lake, surrounded by goldtwig willows (S. alba var. vitellina) and native black willows (S. lasiandra). It cuts a poor figure, and would, if it disappeared, be missed by no one. Still, regardless how plain its appearance may be, I love it for its rarity; underdogs never lack a friend in me. To find rare trees for the first time, after reading about them for years, is a real thrill, a dream come true, that all tree fans get to indulge in occasionally.
In addition to the three species just singled out, Green Lake has some champion sized trees mentioned in the Washington State big tree program. It also has some flamboyantly colorful trees. In general the park is home to an assorted, well varied collection of what we might call "ordinary" ornamental trees. I've met them all, and regarding each kind can let loose a torrent of words. But the purpose is nothing more than to encourage you to derive equal joy from nature, in whatever of her creations touches the most responsive chords of your awareness. Warmth, refreshment, buoyancy, and reverence are humanity's most treasured sensations, and are free.
(originally published in the Washington Park Arboretum Bulletin, Spring 1992, pages 6 - 8. The Michaux quote is from The North American Sylva, 1817-1818. Paris: C.D. Hautel. Translated from Histoire des Arbres Forestiers de l'Amerique Septentrionale, 1810-113. Paris: L. Houssmann et d'Hautel)
Back