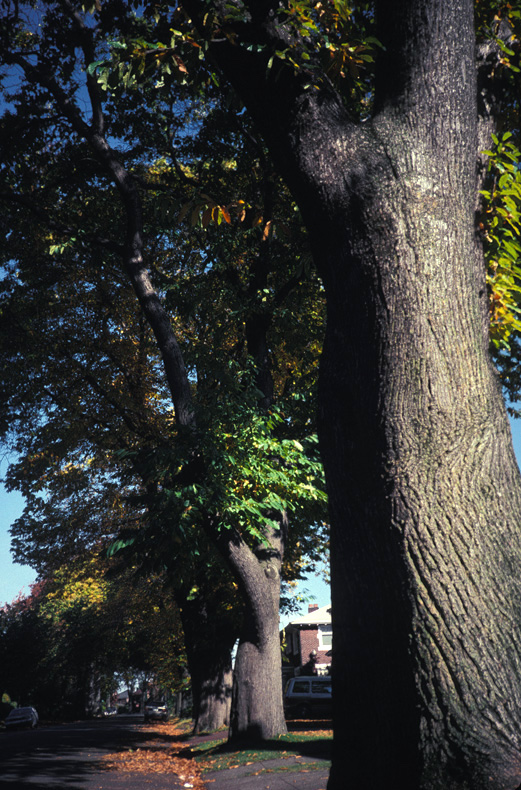 Remarkable Trees of Queen Anne and Magnolia
Near at hand, we all can see beautiful trees. Seattle is famous for its forested history, and remains among the most progressive cities in contemporary tree planting. We plant trees of great variety, both native and non-native. Trees have never been more popular than right now.
Originally, the city's hills were densely clothed with forests consisting largely of three major evergreens: fir, cedar and hemlock. Douglas fir has always been most important economically; red cedar was prized by native Americans; western hemlock is Washington's State tree. All three commonly grow 100-200 feet tall. The evergreen forest was diversified with maples, alders, cottonwoods, dogwoods, madronas, etc. All told, about 30 species of natives grew here. After the logging phase came streets, buildings, and ornamental tree planting. Hundreds of species from around the globe now thrive here. Some exotics now run wild, holly for example.
On southwest Queen Anne, KINNEAR PARK offers not only spacious views of Elliot Bay, but an important tree collection. Some trees are among Seattle's oldest, planted more than 100 years ago, in 1892. A few of them are now the largest of their kind in Seattle, or even in the State. At Kinnear Park, trees combine the admirable qualities of grand size with the rich diversity of an international collection. Grouped together are English oak, Norway maple, date-plum from southeast Europe, cucumber tree from Back East, Oregon myrtle, firs from Japan, and many more. Their aged gray trunks and fresh spring greenery make a lovely contrast this time of year. Sprouting on the lawn beneath the mature trees are seedlings of lindens, beeches and maples --their lives to be ended quickly by mowers.
QUEEN ANNE BOULEVARD is 3.75 miles long, an informal emerald necklace circling the hilltop. Unlike most Seattle boulevards, it was conceived by citizen initiative, not by the Olmsted Brothers landscape architects. Between 1911 and 1916 the trees were planted. The Parks Department maintains them. Species include yellow birch, yellow buckeye, umbrella catalpa, black cherry, European chestnut (PHOTO ABOVE), European white elm, downy hawthorn, Crimean linden, Montpelier maple, Norway maple, sycamore maple, pin oak, red oak, and Turkish oak. The graceful boulevard is popular with cyclists and pedestrians.
SEATTLE PACIFIC UNIVERSITY campus contains a stately planting of large old shade trees, many 90-100 feet tall or more, and older still. It has among Seattle's finest specimens of Oregon ash, English elm, wych elm, horsechestnut, Norway maple, sycamore maple, English oak, California valley oak, and white poplar. The elm seeds are prominent little pale green wafers at this time of year.
At PARSONS GARDENS PARK are no immense trees, but a comfortable array of small ornamentals including some spring-blooming trees. Cornelian-cherry dogwood has small bright yellow blossoms. Kobus magnolia bears large snow-white flowers. A Japanese weeping cherry is pale pink. Last to open is a pink dogwood. Of evergreens, the hinoki cypress and hybrid holly are especially cheerful. This park, at 7th Avenue W & W Highland Drive is a former private garden, as was Kinnear Park.
MAGNOLIA, unlike Queen Anne, has only one outstanding tree mecca --Discovery Park. Here visitors see superb native trees as well as such non-natives as thrive in wild conditions. The park's well known Loop Trail used to boast Seattle's largest dogwood, 80 feet tall and 55 feet wide (in 1990), but it died. Still lofty and healthy, however, is the Dawson crabapple, also 80 feet tall, a fascinating size for what are usually squat bushy trees. A yellow-berried holly illuminates the Loop Trail, too. Many other interesting trees grow at the park. In generations to come it will gradually become more and more the evergreen forest it once was.
A few trees on PRIVATE PROPERTY beg for mention, being landmarks or of champion size caliber. It is amazing we have as many as we do, considering how high homeowner turnover is. For a tree to be spared the axe decade after decade, until it becomes a great giant, is wondrous. One of the oldest and largest trees in the Interbay area is a bulky European chestnut at 3212 22nd Avenue. Although not tall, it is very wide, and its trunk about 5 feet thick. Admirably pruned, it is very impressive. Washington's largest Japanese maple grows at 29th Avenue & Crockett Street on the southwest corner. It is more than 40 feet tall and wide, and has been getting into the wires.
A local landmark, the enormous Californian bigcone or Coulter pine at 3416 32nd Avenue, is now no more --after part broke in September, it was cut down. Possibly its place as the record-holder for trunk size grows at 1928 Magnolia Boulevard (easily recognized by its bold long needles and football-sized cones). But precise measurements and comparisons with other contenders need to be done.
For every kind of tree there is one specimen that is tallest, another widest, and a third that has the thickest trunk. Several tree-lovers, myself included, keep track of such records as a hobby. Such information is both useful and inspiring. My 1989 book Trees of Seattle, lists hundreds of examples. A more recent compilation is the 1994 Washington State Big Tree book, 92 pages, well-illustrated (replaced by the 1996 Champion Trees of Washington State, 136 pages). For details contact me at (206) 328 - TREE, or Robert Van Pelt at (206) 783 - 0991.
(originally written in February 1995)
Back