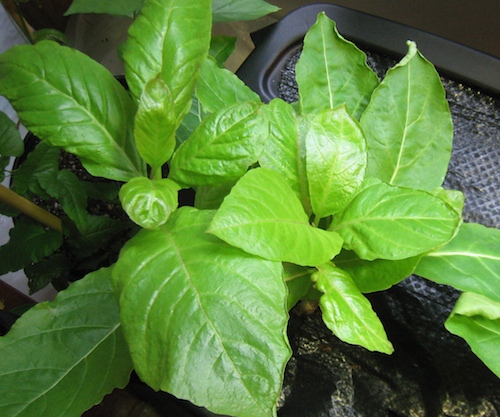 Pisonia edible Lettuce Tree; photo by ALJ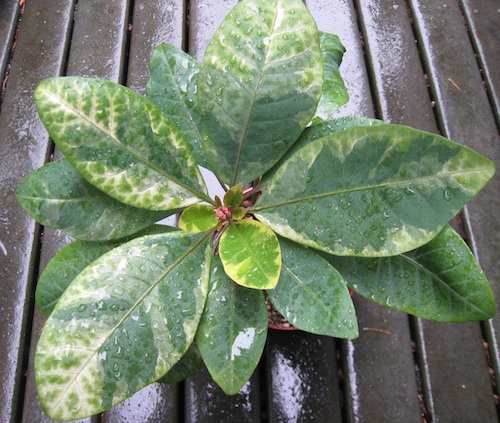 ornamental variegated Pisonia with flower buds; photo by ALJ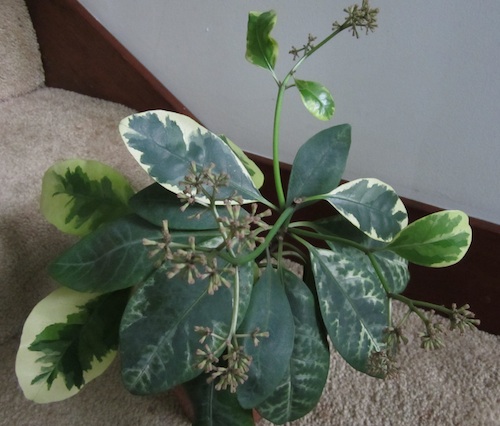 ornamental variegated Pisonia with flowers; photo by ALJ
Edible Houseplants
I desire to share my current project --a 5 year plan-- of learning and writing about Edible Houseplants. Though human civilization has achieved great pyramids, grand opera, and space exploration, no one has yet done a comprehensive study in this realm. Houseplants have been treated largely as mere living decorations. But with our ever growing population, and acute awareness of diet's vital role in health, growing greens and fruit inside is well worth a close look.
Earlier in my career, focused on garden plants, wild plants and trees, I despised and ignored houseplants. Now they are fascinating; I bought more than 100, ate many dozens, and tasted and rejected a few. Most people have no idea how many houseplants are edible. I am taking notes on more than 240 genera, from Abutilon to Zingiber [by early October, 330 genera. By 2012, 410. By 2015, 1,079!]. To find out if a given plant is edible or not, I read widely in libraries and on-line; grow, and taste them prudently.
A few houseplants are poisonous, such as desert rose (Adenium obesum), dumb cane (Dieffenbachia), and most species of Euphorbia. A great many more are non-toxic, yet not worth eating due to various reasons such as repulsive bitterness (e.g., African violet, Aloe vera), too fuzzy with hairs (e.g., most scented geraniums), too chewy (e.g., wandering jew), too bland (e.g., spider plant), too astringent (e.g., piggyback plant). Plenty are edible, and flavored pleasingly, but are variously difficult to grow, or have a brief season, or low yield.
This is like familiar fruits and vegetables outside; they have in common with houseplants that in any given soil and climate, certain crops excel. Every house or apartment has unique light levels, humidity and temperature in which some plants thrive, others fail. Seattle's dreadfully dark winters mean that without supplemental lighting, most plants favored for food will sit there dormant --as if they, like some people, suffer from Seasonal Affective Disorder. But give them light enough and they'll perk up, continue to grow and yield (except those species that require a winter rest period).
Though houseplant popularity peaked in the 1980s, nowadays the technology is improved, the internet makes buying rare plants simple, and scholarly advances in both edibility and toxicology are far more comprehensive. There are also more safe, non-dangerous pesticides: critical for indoor plants. I've lost some plants to scale, fungus, and spider mites. It's embarrassing, but I failed to keep kudzu alive indoors. It was worth a try, being edible, productive, and nutritious.
Most valuable are those species that are reasonably simple to care for, yield well, taste good, and ideally, are notably healthy to eat --the houseplant equivalent of kale. During a period of several years, I am learning about these, in order to share the results in a book and otherwise. Towards that end, I have eaten houseplant leaves raw, cooked them in stir-fries, baked them as pizza toppings, boiled them as greens, and I plan to dehydrate some in a way similar to how Japanese dry and eat seaweeds such as Nori. Certain houseplant flowers are edible, such as those on Begonia, cacti, Hibiscus and mother-in-law's tongue --I have not tasted the latter yet. Moreover, many tropical fruiting plants, if dwarf selections are grown, can yield indoors, such as: avocado, banana, citrus, guava, and mango.
So far, I find that succulents are among the easiest to grow, and vines are the fastest growing. Succulents are mostly water and crunch; vines can be awkward to constrain. I still must rig up a plant aquarium to test indoor water plants. Overall, my most exciting recent acquisition is called the Lettuce tree. From remote islands and coral atolls in the tropical Indo Pacific, its bright green young leaves are eaten like lettuce. It is related to the four-o'clock flower. On August 11th, I imported two from Hawaii, but have not yet tasted them, since I try to wait 2 or 3 months when buying nursery plants, to allow any systemic pesticides to break down. [On October 4th I ate a leaf --it was amazingly like lettuce in texture and flavor, though slightly bitter.] The Lettuce tree is Pisonia grandis 'Alba' and is unmentioned in houseplant books. However, a cousin of it that is grown as a houseplant [of unknown edibility or toxicity] is Pisonia umbellifera 'Variegata'.
I hope that Montlakers growing a diverse array of houseplants, or who have serious houseplant interest, will contact me, so we can trade plants or information. Maybe we can do an informal Montlake houseplant tour some day.

(originally published in the September 2011 Montlake Flyer)
Back